Yesterday was my second Mother's Day and it was pretty darn good. We didn't really do anything "special" or exciting. Instead daddy took on a lot of the parenting duties (he's always a contributing parent) and I was able to do the things I like - vacuuming, organizing and I even got to cut the lawn! Yes that's right, I like cleaning and I love yard work. I especially enjoy doing them when I'm not also trying to entertain an almost two year old. She loves to help, and it's precious but it's not very productive. I also was given the time to cook a fabulous meal (short ribs, yummy!).
Beyond all of the domestic joys I was able to complete, I did manage to get some shopping in. Very little of it was actually for me specifically but it doesn't matter. Ultimately what I was given for Mother's Day was time. Time to do what I wanted, even if it was all domestic, it was still sweet! Thank you to my husband for spending the day being super dad and to my darling daughter for being such a good girl, despite having a truly nasty cold.
Now that Mother's Day 2012 is behind us it's time to start thinking about
Father's Day
. What better way to tell our fathers or partners that we love them then to let them know we care about their health.
Check out the Dad's Deserve to be Healthy giveaway below
!
The men in our lives deserve to be as healthy as they can be and
Adult Essentials
can help them do that!What man doesn't love a good tasting gummy every once in a while, after all, many men are just kids at heart, right?!Adult Essentials taste so yummy that they are hard to turn down, in fact, they are difficult to forget because they taste
THAT
good!
Adult Essentials
are pectin based gummy vitamins that are:
gluten free, nut free, dairy free
approved by Health Canada
made with natural flavours and colours
delicious
Adult Essentials
along with
Multi-Testing Mommy
and a group of amazing and influential bloggers are co-hosting a
Dads Deserve to be Healthy
Giveaway to celebrate Dads in Canada being healthy.Would you like to enter to win a
handsome monogrammed black gym bag FULL of Adult Essentials
for that important Dad in your life? Enter the Rafflecopter Form below.
Giveaway is open to Canadian Residents only and ends on June 17th 12:01AM.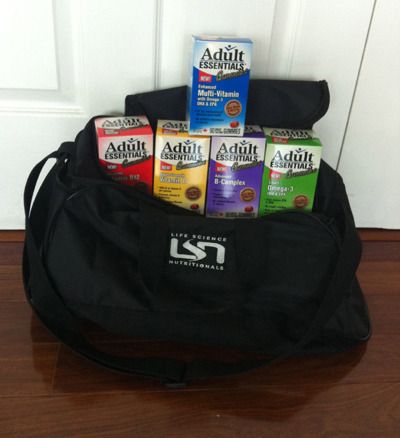 a Rafflecopter giveaway
Adult Essentials are available online at
Well.ca
and at most Rexall Pharma Plus, Metro, Sobeys, Lowblaws/Real Canadian Super Stores, London Drugs and now at Shoppers Drugmart.To learn more about
Adult Essentials
, feel free to visit them:
Adult Essentials Website
@AdultEssentials on Twitter
Adult Essentials on Facebook